The number of electric vehicles (EVs) on our roads is increasing daily due to the rising popularity and affordability of EVs. As a result, the corresponding demand for electric vehicle charging stations (EVSEs) is increasing as well. If you're looking to install an EV charging station, its cost is likely your biggest concern. Before deciding which system to choose based on the cost of an EVSE alone, select an EV ecosystem that adequately meets your current and future needs. Additionally, the site or location you select will have a significant impact and may be of greater importance than the charger you select. Lastly, removing and replacing an EVSE is not optimal so plan carefully. Cyber Switching has created a simple form to help you determine the best charging EV ecosystem for your specific needs, feel free to complete and one of our team members will contact you shortly afterwards. This blog post focuses only on level 2 commercial charging systems, which excludes residential and DC fast charging.
Commercial Level 2
Unlike residential installations, where the EVSE is the primary cost, commercial installations the labor and materials for the installation typically account for most of the installation cost. The installation costs depend on the level of importance of aesthetics, (e.g., visibility of the conduit and landscaping) and can increase or decrease your budget. Alternatively, placing EVSEs in a highly visible location can bring attention to the units and result in marketing or branding benefits that outweigh the added cost. As such, site planning is a critical activity to complete prior to launching a project. The answers to following questions have the greatest influence on the total cost of ownership (TCO) of your EV ecosystem:
Do you have enough electrical power and available circuit breakers to support the number of EVSEs you are planning to install now and in the future?
Is there a wall that you can mount the EVSEs instead of using pedestals?
What is the distance from the circuit breaker panel to the location of the EVSEs?
What is the amount of site work required to install the EVSEs (i.e., concrete demolition, trenching, boring, concrete poring, and landscaping)?
Is your EV ecosystem for a public or private network?
Do you need to monitor and report power consumption?
We have found, as a general rule of thumb, that the installation costs of EVSEs range from 50%-75% of the total amount paid for the equipment.
Power Availability and Circuit Breaker Quantity
For Level 2 commercial installations, about 72 percent of the installations often require work in the electrical panel when adding new chargers. Modifying or upgrading your existing electrical panel to create dedicated circuits for each EV charger can be costly. Essentially, for every Level 2, 32A EVSE you plan to install you will need a 40Amp 2 Pole circuit breaker. For example, a fleet of 20 EVs, you will need to have 20 circuit breakers and sufficient power to charge them. At a recent condo tower upgrade, they did not have the available breakers, so we needed to tap into the power main and run a line to a new transformer to reduce the power to 240 Volts and install a panel to support the amount of EVSEs to be installed. The cost of this alone was in excess of $50,000. Thankfully, with innovations like Cyber Switching's EV Management Controller (EVMC), you can switch power to four charging stations in a "round-robin" configuration while only using a single circuit breaker and one primary feed line to power four charging stations. If the condo complex in my example had five circuit breakers, they would not have to incur the cost of the power infrastructure upgrade. To verify capacity at your location, contact a certified electrician to ensure your electrical system can accommodate the additional load or will you need to add capacity.
For multiple Level 2 EV charging stations, it can cost over $50,000 to bring a line from the main and install a transformer and panel with breakers to support an EVSE installation. This is before even purchasing and installing the EVSEs.
Wall or Pedestal Installation
Running electrical conduit along a wall or overhead is significantly less than running it underground. Depending on the physical characteristics of your site, if you can install your EVSEs along a wall, the cost will per foot to run conduit and cabling is a fraction of the cost for trenching and having to demo and replace concrete work. We typically see the cost of installing conduit along a wall be 30% of the cost to run the same amount of wiring and conduit underground. Additionally, some EVSE manufacturers, such as ClipperCreek, sell pedestals and cable management systems separately. These options can exceed the cost of the EVSE.
Distance from the Electrical Panel
Trenching a long distance to lay electrical conduit from the electrical panel to the charging station can significantly increase the TCO. Additionally, if you plan to install 20 EVSEs, you will need to ensure that you run enough wires and conduit for every charger. With Cyber Switching's EVMC, you only need to run one set of wires and conduit for every four EVSEs; therefore, the material run from the electrical panel to the chargers stations (if you can mount the EVMC close to the charging stations), will be ¼ of the cost in material and significantly less labor.
Labor, Demolition, and Repair Work
Labor costs for EVSE installations will vary based on the duration it takes to complete the project and the contractor's hourly rate. Consider a contractor and with several years of experience to reduce on the installation time and one within your geographical location to minimize on hourly rates. Using union labor or complying with prevailing wage laws may cost you 20% more than similar works done by private contractors. Additionally, if you need to go through concrete and replace it later, the costs escalate. Further, anything you demolish, you then need to replace afterwards to make the area look pleasing to the eye again.
Future Proofing
It is a good practice to plan for growth when installing an EVSEs. If you anticipate installing additional EVSEs in the future, it is cost-effective to install the conduit from the electrical panel to future EVSE locations while the ground is still trenched. Work with your utility company early in the process to reduce costs, optimize design, and eliminate scheduling bottlenecks. While these steps can significantly increase installation costs, they can save you huge costs if additional EVSEs will be installed in the future.
Cost Analysis
As you can see, there are several variables in the installation cost of EV charging stations. If you are looking to cut down on installation costs for your commercial charging station, consider the innovative EV Management Controller (EVMC) that allows you to switch power to multiple charging stations using your existing single electrical line to feed multiple charging stations. You can also look out for other cost-saving opportunity with government incentives and other available rebates. The following is a cost analysis of different EVSE installations: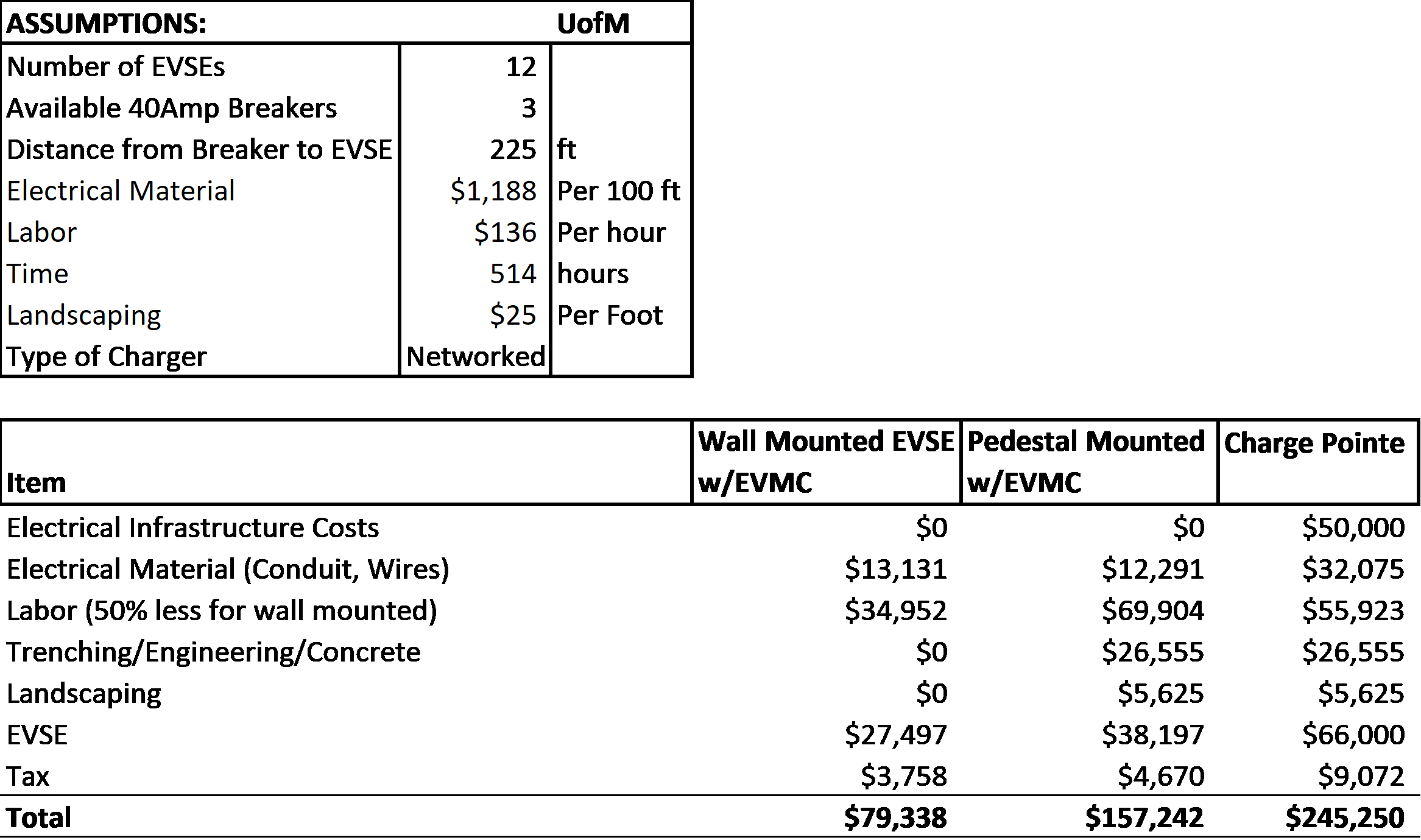 Savings when compared to the ChargePoint solution, are 36% and 67.65% for wall mounted and pedestal mounted EVSEs, respectively. Further, for similar products, we experience about a 50% cost reduction for wall mounted chargers, when a 2015 D.O.E. indicated a 37% difference in cost for a wall mounted system compared to a pedestal system. In all scenarios, the EVSEs only account for 25% to 35% of the entire cost of the system; so again, site planning and selection are critical in minimizing the TCO of your EV ecosystem.